I?ve had a Mojave II body kit sitting on my parts shelf for over a year, and finally figured out what I wanted to do with it. I envisioned this rig as a desert barn find restomod. (i.e. taking an old abandoned Yota that had spent years baking in the sun, restoring it mechanically, updating to a linked suspension setup, and adding some trail armor, but leaving the desert patina pretty much untouched).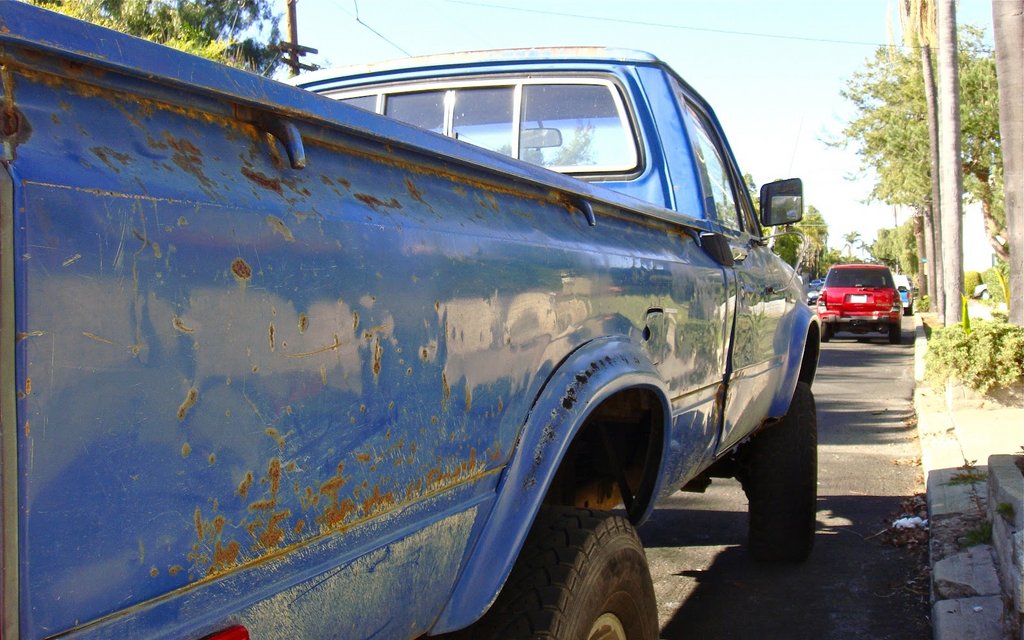 In my planning and research process, I learned of RexRacer19/Mod19RC?s mounting solution for the Mojave body on a SCX10-II chassis. So I went ahead and ordered a the body mounts and inner fenders from Shapeways. This made mounting the Mojave body a breeze on the SCX10-II chassis. I borrowed heavily from RexRacer19's approach on his Class 1 Hilux build, as you will see... Many thanks to him for the inspiration and the cool products!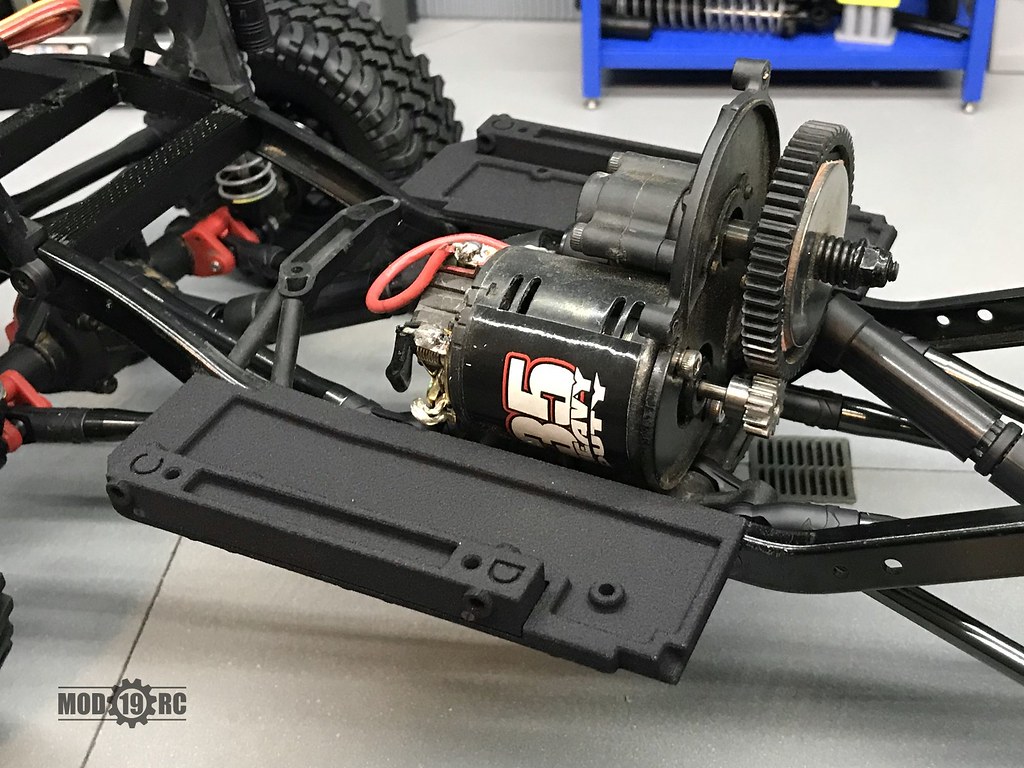 AR44 axles are great. They?re very durable, perform well, and are easily upgraded. I use them a lot. But for a stock-ish look on a Hilux body, they are little too wide. There are some workarounds to make AR44?s look right on narrow bodies by using really thin hexes, or wheels with a ton of positive offset. But I had another option. I had invested in a set of narrowed AR44?s from Beef Tubes a while back, and I?m really glad I did. I?ve used these axles on a few other builds with narrower bodies, and they make it really easy to get the right track width. The SCX10-II rig I took these narrowed AR44?s off of had a Pro-Line Gladiator body on it. The narrow axles almost made that body look decent ? no easy task.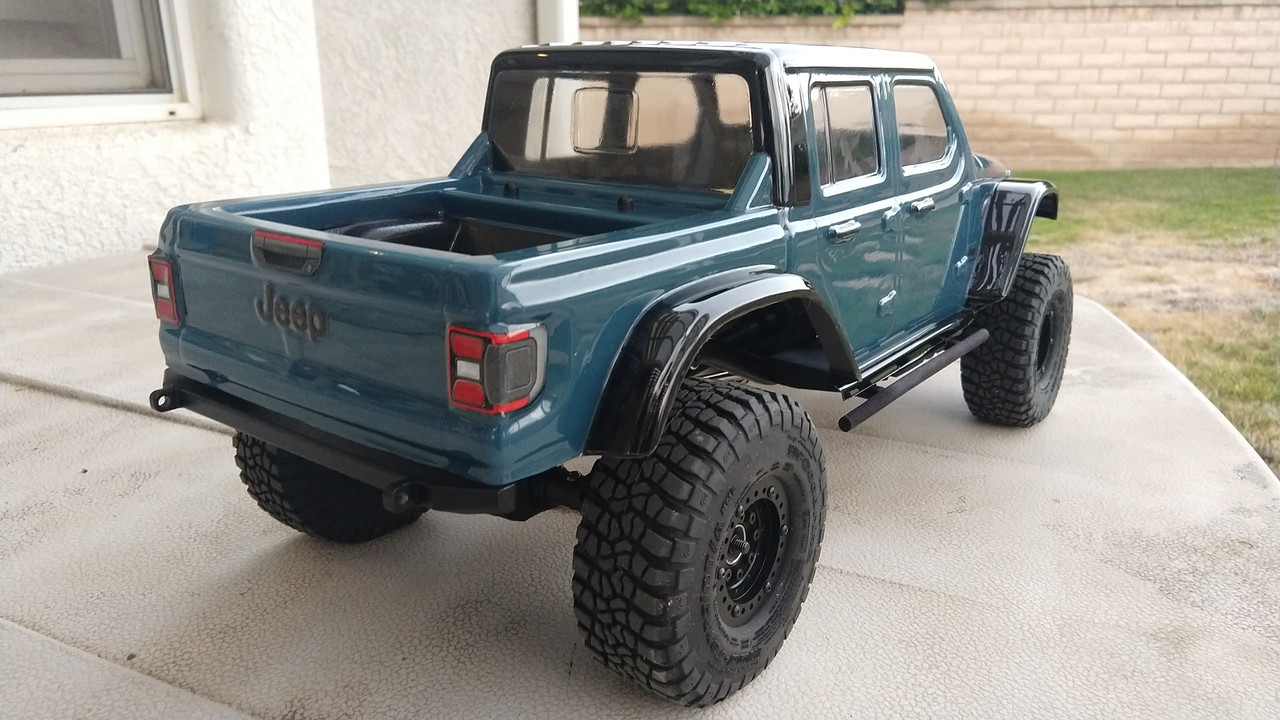 This being a rig where appearance was more important than performance, I didn?t want to cut holes in the bed for the rear shock towers. I ended up basically copying RexRacer19's cantilever setup using Vaterra Twin Hammers parts. It is very clean-looking, and highly functional. What I liked best about it was that the connecting rods come straight up vertically from the axle to the cantilever arms. They aren?t angled forward like many of the off-the-shelf cantilever kits. They end up looking pretty much like shocks.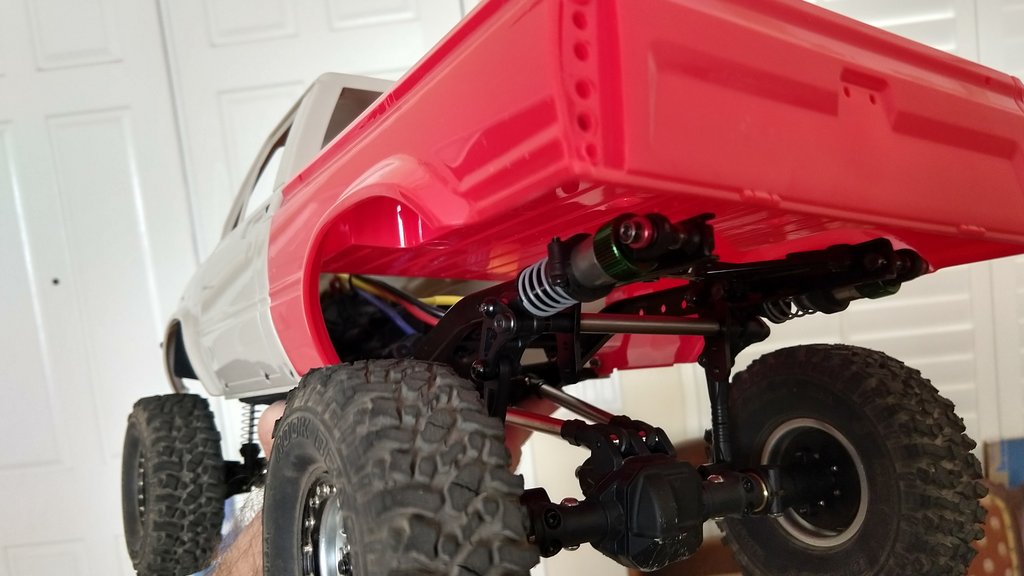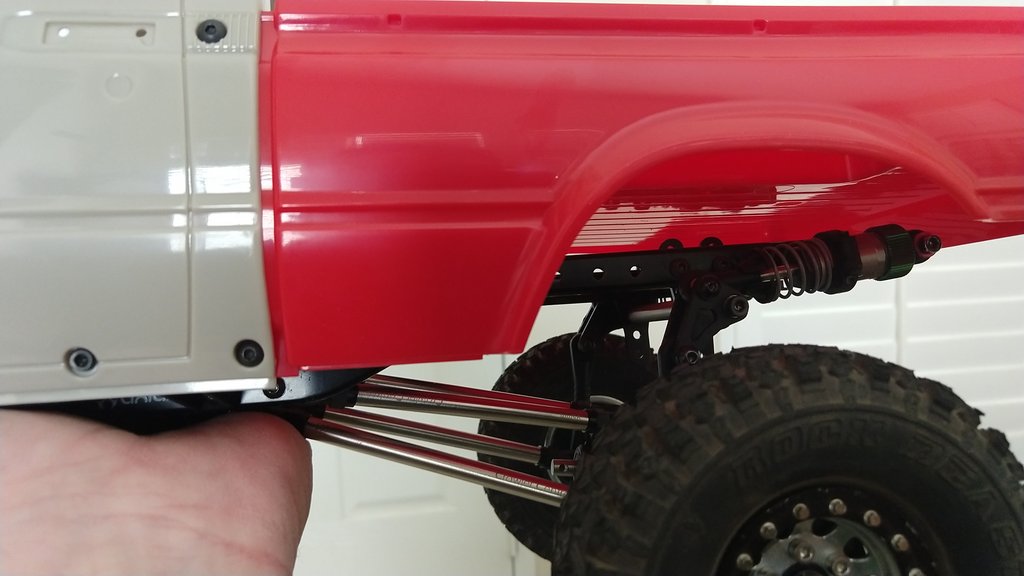 It took a little hunting around to source all the Twin Hammers front suspension parts that were needed, and I don't have access to a 3D printer, so I had to improvise a bit on the mounting of the cantilever arms. With the purchase of a couple cheap shock keys off eBay, I was in business.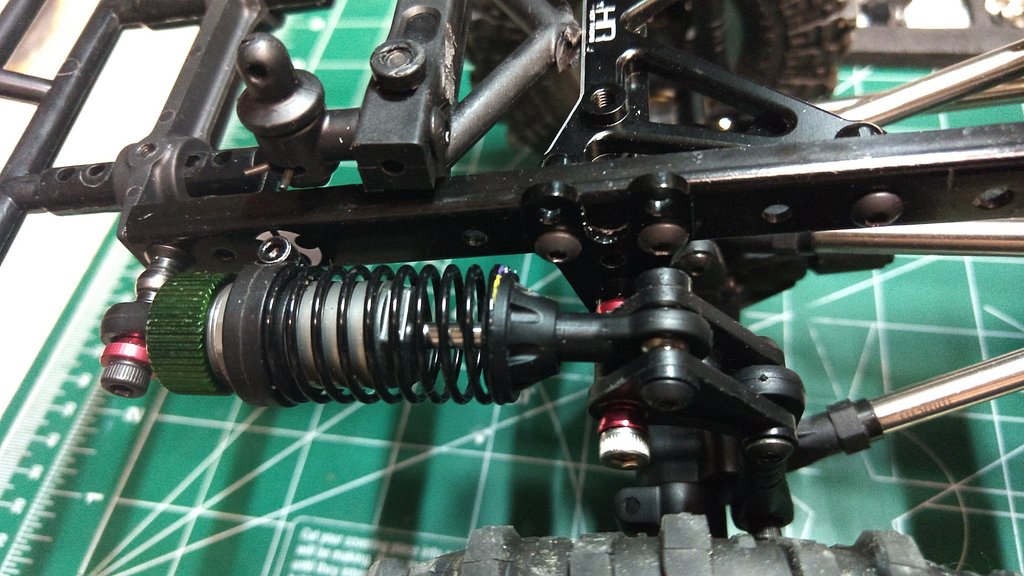 I?d heard that tuning cantilever shocks can be tricky at times. So I just followed RexRacer19?s recipe: Light springs, light shock oil, and drilled a couple extra holes in the shock pistons. That did the trick. I?m getting plenty of travel, and everything cycles very smoothly. For front shocks, I decided to use a set of TRX-4 shocks modified to work with Mini-T springs. I?ve used that shock setup a bunch of times before, and really like it.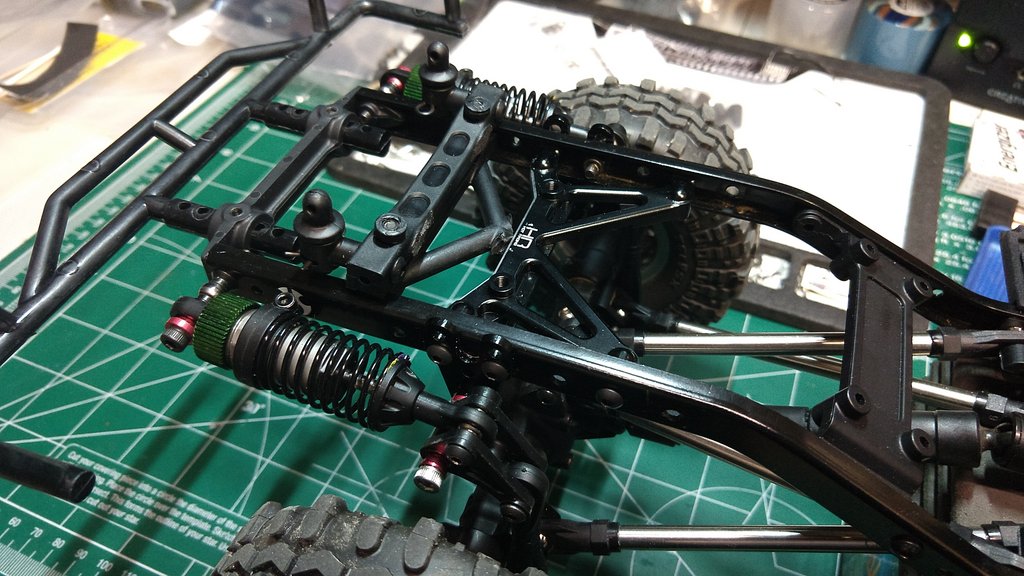 Once I had the suspension sorted, I turned my attention to the transmission setup. Though I have several Axial rigs, I had never used the ?kit? transmission before. I know they aren?t all that different from a 3-gear trans, but I wanted to have a little more room for an interior down the road. I used the Bowhouse forward mount transmission cradle to flip the kit trans around for a little better weight distribution. I am also using the Bowhouse HD battery tray and servo mount to get the battery all the way up front.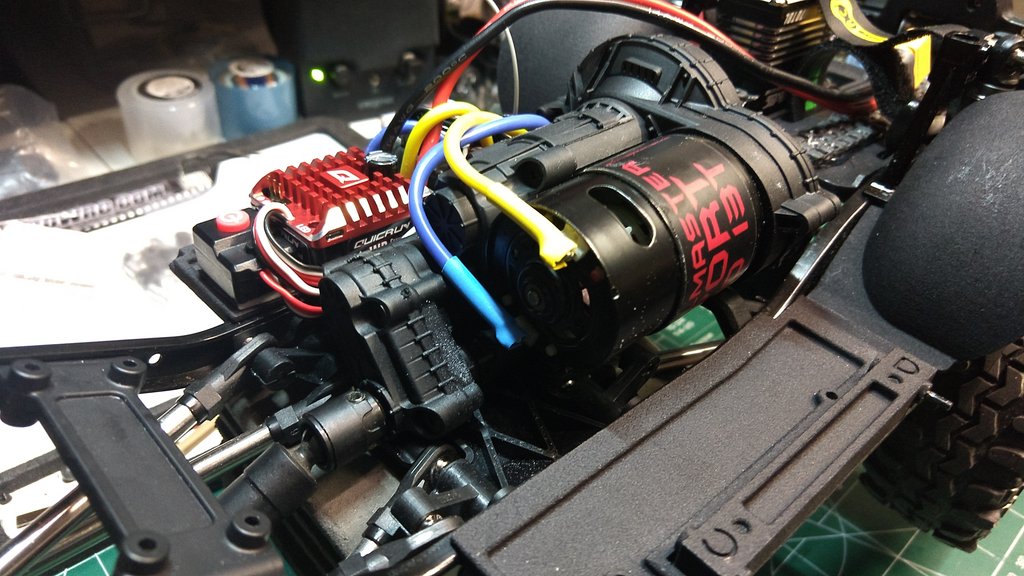 For electronics, I?m running the tried-and-true Hobbywing 1080 ESC and Holmes Hobbies Crawlmaster Sport 13T. I believe I have a 11 tooth pinion to get the lowest possible gearing with the kit transmission. My steering servo is a ProTek 370TBL.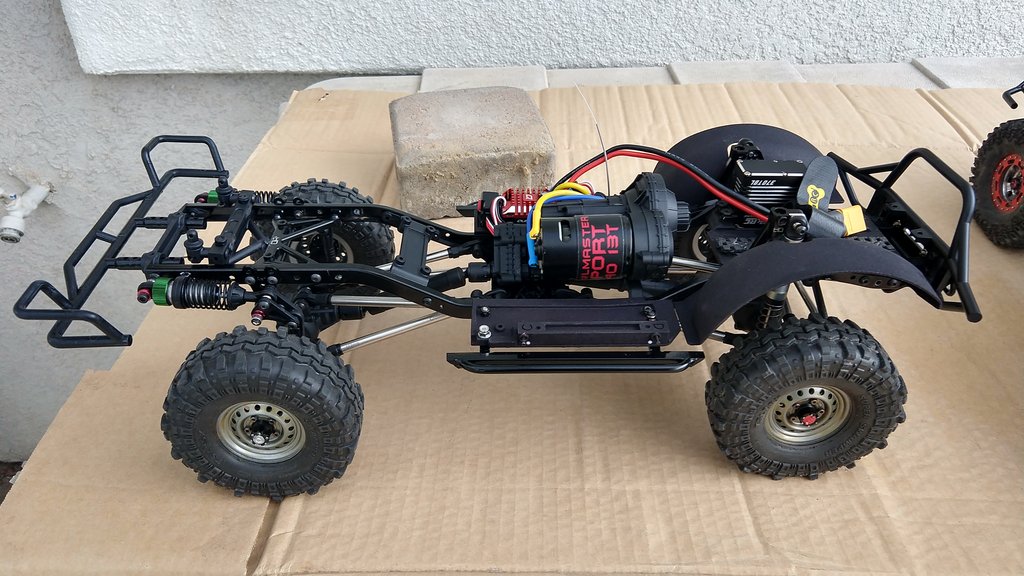 This was my first attempt at painting a hardbody. I initially planned to bob the bed myself, but ended up taking the shortcut of using the pre-bobbed Marlin bed. I also ordered the Marlin roll bar, rear bumper, grille, and headlight lenses. Though the paint options for hardbodies are pretty much limitless, I decided to stick with something familiar, and went with Tamiya spray paint from their AS series of paints because I liked the color selections and flat finish. I chose AS-19 Intermediate Blue, which I think is a color used in WWII by the US Navy. I shot several coats, and wet sanded in between them, getting a pretty good finish. But that nice finish didn?t last long.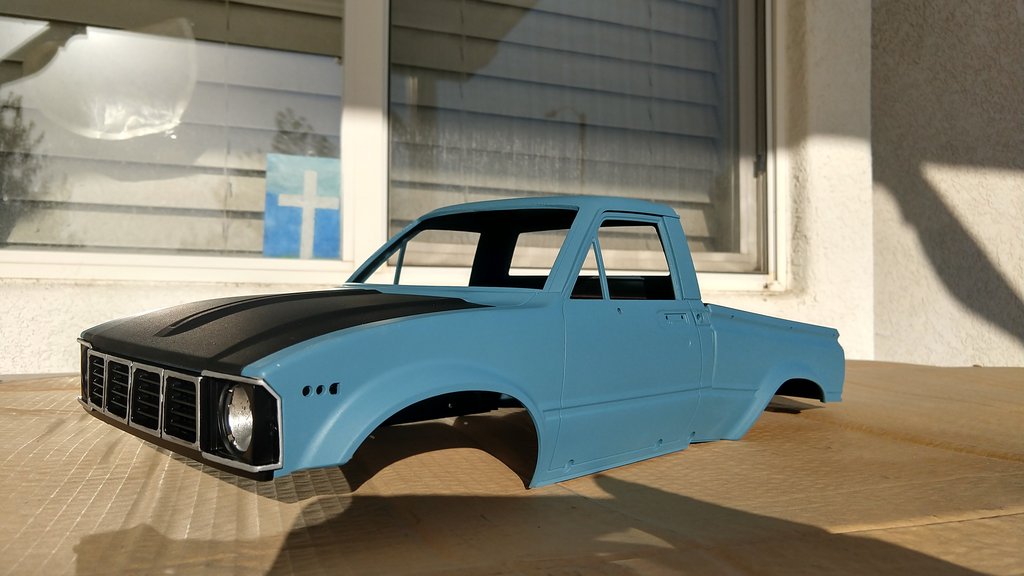 To initiate the weathering process, I first lightly scuffed the body with a kitchen scouring pad. This took what little shine there was to the AS-19 paint finish right off, but it wasn?t enough to get the look I was after. I then went at it with some wet 1000 grit sandpaper to wear through the paint down to the primer in a few spots. Unfortunately, I went a little overboard, and the results were not realistic at all. The wear spots I created were too large and uniform in shape. They looked pretty fake. I considered sanding the whole body down and repainting it, but then came up with another idea. I thought, why not just paint over the overdone wear spots? But instead of respraying with the AS-19, I grabbed a bottle of Pro-Line airbrush paint in Slate Blue I had laying around that my buddy had used to spray a couple of other lexan RC bodies for me. The Pro-Line Slate Blue was pretty close to Tamiya AS-19, it just needed a few drops of white acrylic paint to lighten it up, and it was a really close match. Then I just brushed the mixture over the spots that needed to be covered up a little more. The results, after allowing some time to dry, were exactly what I wanted ? it left the body looking heavily oxidized and chalky. I had achieved a pretty good approximation of desert patina. But I wanted to add a little rust as well. This I did by hand with Tamiya acrylic X/XF paints ? with a toothpick. Then I made my own wash with khaki acrylic paint and brushed it on lightly to enhance the patina and give it a dusty/grimy look. I shot the whole body with TS-80 matt clear to seal in my work, and the final step was to touch up each of the rust spots with a little of the Tamiya Weathering Master brush-on pigments. I feel I went a little overboard on the rust spots, but overall, it still looks good to me ? especially for a first try. Next time, I will try to restrain myself a bit more.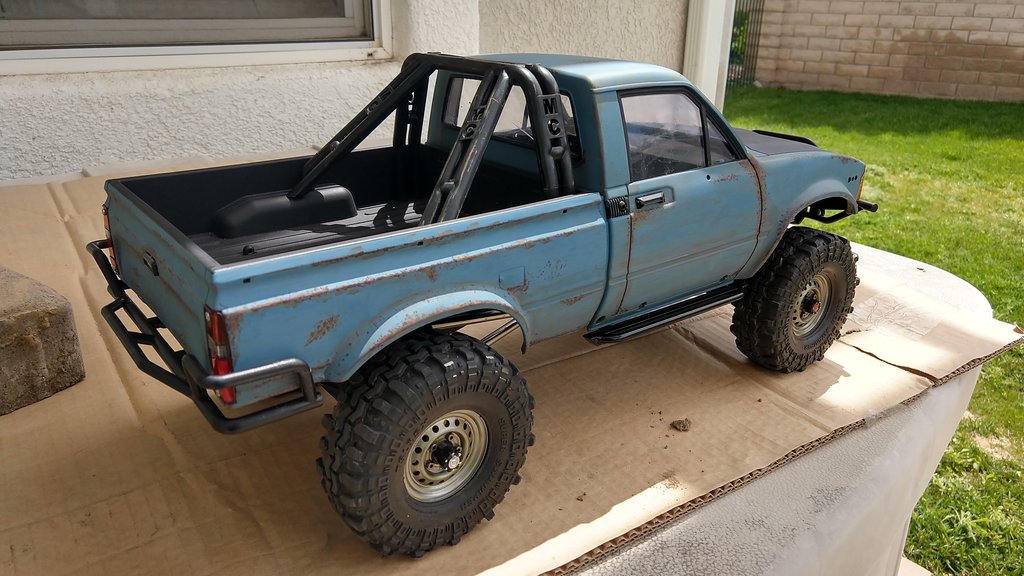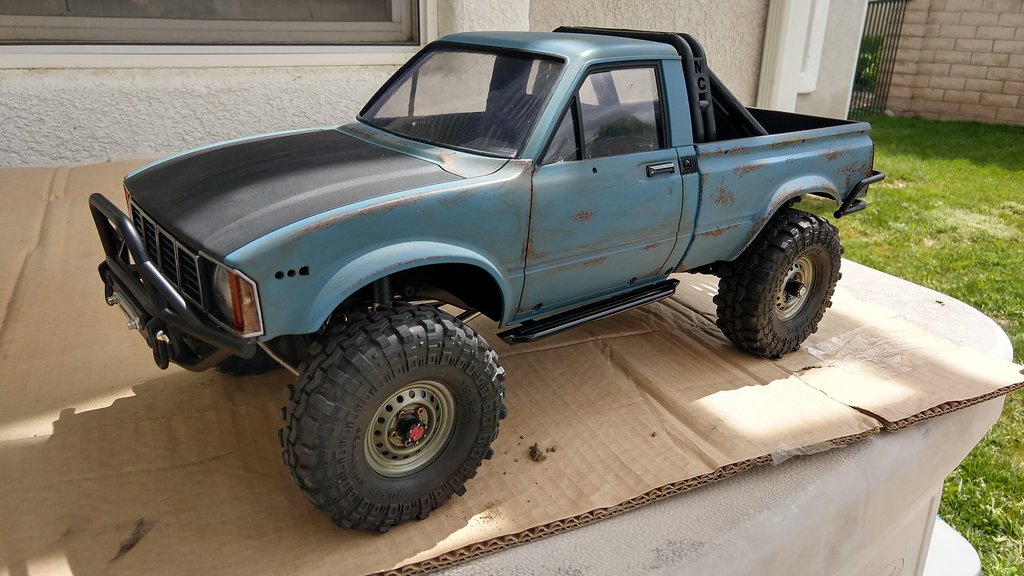 To finish this rig off, I bolted on some custom metal sliders that my buddy at Mt. Goat RC had made for me. They were intended for use on a short-wheelbase rig, so they?re not quite long enough, but they look fine and will protect the body. Initially, I had intended to use the traditional metal Marlin front bumper with a Warn winch, but then I wanted to do something different. I threw on this GMade GS01 tube bumper and it just looked right to me. Aside from adding a light kit, a few scale accessories, and possibly an interior, I?m pretty much done with this build.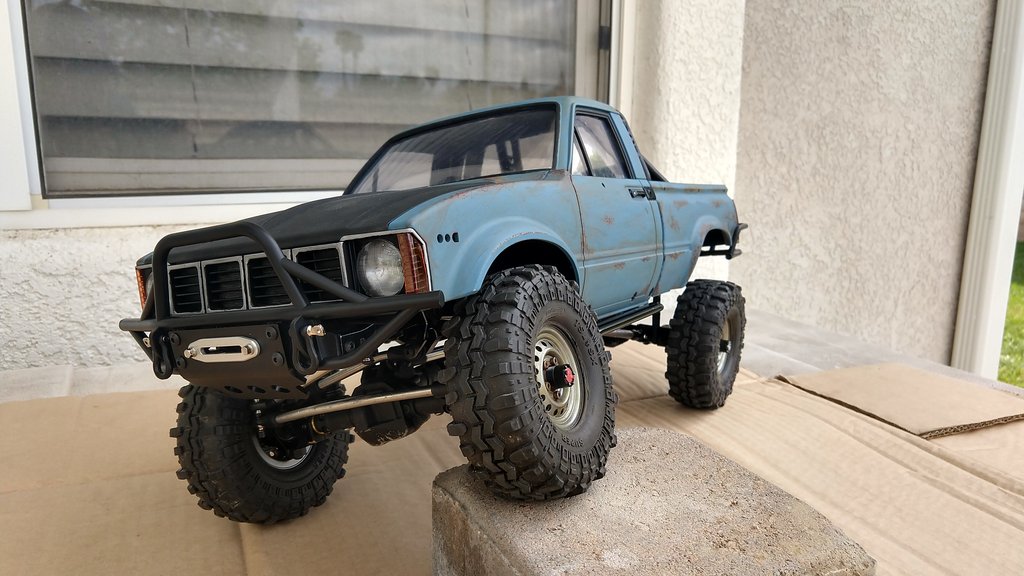 I took it to our local crawling spot yesterday, and it performed well. Initially, I drove it like a rolling dollhouse. I?m not usually shy about wheeling my RC?s hard, but this is my first hardbody, so I was just trying not to destroy it right away. Eventually, I did get used o it, and started to take on some tougher obstacles. There were a bunch of TF2?s out on the rocks today, and my linked Yota fit right in with them. We had a blast.