WRAITH OF HEADQUAKE
I walked into a hobby shop last Saturday just looking for a servo, a place that mostly deals in airplanes and 1/8 scale buggys, so i didn't even think they would have a Wraith sitting on the shelf. Needless to say, it came home with me.
By Saturday night i had the body panels painted black, the cage and links painted silver, added a spektrum receiver and 6000mah 2cell LiPo, and chopped the sides of the front bumper off. I do like the Ripsaw tires that comes with it, but i really don't like the look of the rims. I painted them black to try and mellow out the "bling-ness" of them and painted the fake beadlock ring silver. They are fun to use and have alot of traction in the dirt and the big size of them helps make the axles look a little less wide.
Its runs pretty fun even with the heavy battery in the back and no added weight in the tires. I kinda like the weight in the rear actually. Like others have said, the motor doesn't give too smooth of control while crawling but it still does it fine. The bit of speed it has is fun to use while climbing hills though.
Its still pretty stock but i've got some more plans for it. I'm gonna leave the plastic links and stuff until something breaks. They are a little soft and deform under stress a bit, but it doesn't hinder the performance. I kinda like the softness cause it really saves you parts. It also lets you get away with running that stock servo with out wrecking it. The servo is actually quite strong. Same strength as a hitec 645, though i've killed alot of those too, its fine with the plastic streering arm.
So these are all just the first things to be done to it. Gotta play with it as is for a while. I really need to make up a driver though. I don't like the empty seat look.
Anyhow, here's a quick pic for now.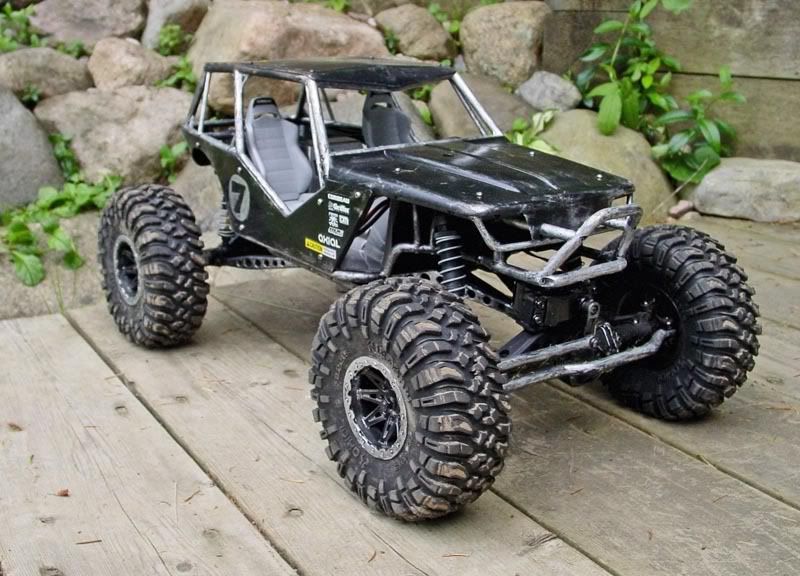 Last edited: